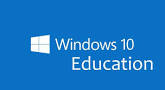 CSI and Microsoft are excited to present a Windows 10 in Education Deployment and Manageability Workshop on Wednesday, February 28th from 8:30-12pm.  Microsoft will be coming to our office and providing a very detailed presentation on all things Microsoft relating to the deployment, management licensing, and upgrading of Windows 10 in education.
Microsoft will literally be going over everything from WIndows 10 S through Windows 10 Education and covering all their management strategies such and Intune and  Configuration Manager and Endpoint.
This is your opportunity to speak directly to the Microsoft Education reps and get your questions answered.
Microsoft also encourages you to bring your own Window 10 laptop so you can participate in a portion of the presentation directly.
There is no cost to you for these sessions, but advanced registration is required since seating is limited.  The presentations will run from 8:30 AM to approximately 12:00 PM.   We have breakfast and lunch afterward for you. 
To reserve a seat please contact Lisa Evans at levans@csiny.com or via phone at 845-897-9480 x3215.