Paladin Services
We go the extra mile, for each and every customer, each and every time.
CSI has created a set of tools that compliment one another and we call them Paladin Services. The meaning of the word "Paladin" is any determined advocate or defender of a noble cause. CSI's Paladin Services and the recommendations we make to our customers are tightly aligned with this meaning.
Paladin Patch Management Service
With Cyber Crime on the rise, IT staff are being pushed to the limit. Not only are they tasked with making sure teachers, students, and staff have easy (and functioning) access to the technology they need, but they also must assure that their network stays safe. According to the Center for Internet Security (CIS), server patching is "one of the basic preventive hygiene practices that will significantly enhance your security posture." Unfortunately, many districts don't take advantage of this "easy fix" because it takes time they don't have, and can interfere with daily operations.
We can help. Paladin Patch Management Service is a new addition to the suite of "done for you" services offered by CSI. Paladin Patch Management Service offers Microsoft patching of Windows servers for critical and security patches, security updates, and critical updates. Should a critical patch come out, CSI will apply it as necessary as part of the service. CSI will review all the latest patches and apply all that are deemed safe and necessary in a timely fashion. CSI also monitors that the Patch applied correctly and will notify you if there are issues that need to be addressed.
Paladin Cloud Backup
Protecting your data is one of the most important responsibilities you have. Your data is what keeps you organization productive, and how well you protect it can be the difference of being in compliance or not. Many organizations rely on either local backup to a storage area network (SAN) or replicate data across campus or to another remote location. While this solution is better than keeping everything in one single location, there is still a better means of protecting your organizations data. With the recent severe weather we have been experiencing, it is not outrageous to think that a storm or other disaster could destroy your main storage area, as well as your replicated sites. Paladin Cloud backup is a true disaster recovery solution. There are no concerns about security. Data is encrypted at levels exceeding standard government and banking regulations. The storage sites are redundant data centers that are US based; east coast and west coast.
Here are a few more points about Paladin Cloud Backup:
Agent-less backup software that simplifies the installation
Immediate recovery process for quick online data restoration
Minimized bandwidth and storage requirement
Backups are monitored and if they fail, we will know it immediately and get you back on track again
If you do not have a formal disaster recovery plan in place, we can help you plan this. Having been through fire and flood ourselves, and the breadth of experience we have gained in helping organization plan for and recover from unfortunate events, we bring a unique perspective and sense of urgency relating to this topic.
Paladin Sentinel Monitoring
Can you see the smoke before the fire? That's what Paladin Sentinel Monitoring is all about, seeing a problem starting to occur before it becomes a smaller annoyance or large scale event that could take down your systems. Imagine how much time could be put back in your day if those little issues that brew into large scale problems could be eliminated? Anyone can wait for a problem to occur before they respond, but we go the extra mile to solve potential problems before they become mission-critical issues. This solution is simple to set up, and will not require you to change anything in your current environment - hardware, software, or your staff. Picture this: It's 3am on Sunday, and your network is completely down. School will be open Monday and computer based testing is scheduled to take place. Can you pinpoint the root cause and begin to work on the problem immediately? Are you confident you will be able to solve this yourself? Is your IT team experienced enough and do you have enough head count to handle this on your own; would you even want to?
Here's an idea of the many things you can see in Paladin Sentinel Monitoring
:
Low disk space (and on a path to disaster).
Unauthorized software/hardware being installed on your network
Failing UPS battery
Temperature of your main datacenter and closets
Presence of a virus in your network
Failed Backups (would you know it right away, or go on for days or weeks before knowing?)
How do you know what you don't know? Find out.
It's time to experience IT support the way you wish it could be. Gain peace of mind, and greater control of your network. Become a Paladin customer today.
Paladin Sentinel Security Log Server Monitoring Service
With the increase in cyber-attacks and cybercrime K-12 Schools are increasingly required by auditors and new regulations to show that they are following published best practices in the management of their IT networks. The Center for Internet Security (CIS) runs the MS-ISAC and published the "CIS Controls" which are a prioritized set of twenty action areas that collectively form a defense-in-depth set of best practices that mitigate the most common attacks against system and networks. Maintenance, Analysis and Monitoring of system audit logs is defined as a CIS Basic Level Control and is action area number 6 on this list. To assist our clients in implementing this critical function into their network security postures, CSI now offers our Log Server Monitoring service, which will assist with accomplishing the requirements without putting additional burden on district IT teams.
Paladin Remote Support
When there is an issue with one of your computers or network, you can't always wait for an engineer to arrive on site. You would like the problem to be resolved as quickly as possible. Paladin Remote Support allows for a secure, permission based remote connection between your network and our engineers to resolve your issue remotely. This allows for quick resolution time and can be used for both Mac and PC. Of course, should your issue require an on-site visit; we can certainly send our engineers to your location. All support is completed by CSI engineers who work out of our Fishkill, NY office. If you have a support issue, you can call our office at 845.897.9480. We will be happy to set you up with a remote session with one of our engineers.
CyberSentinel Managed Endpoint Detect & Respond
True Cyber Security for Defense Against Evolving Cyber Threats
In the past few years, cyber-attacks have evolved to be a dangerous threat to every organiza- tion big and small. Luckily, CyberSentinel Endpoint Detect & Respond (EDR) provides the end- point protection that is needed in the new landscape of threats such as ransomware, malware, phishing, social engineering and more.
CyberSentinel Managed EDR uses advanced security software with support from its Security Operations Center (SOC), empowering you to get back to what you do, assured that your endpoints are defended with the best technology and staff in the industry.
Endpoint Cyber Security Backed by a Dedicated Security Operations Center
CyberSentinel Managed EDR is backed by an advanced SOC facility, staffed 24x7 with a team of cyber security experts who can ad- dress threats as quickly as possible. Together, we provide a powerful combination of software and services, including: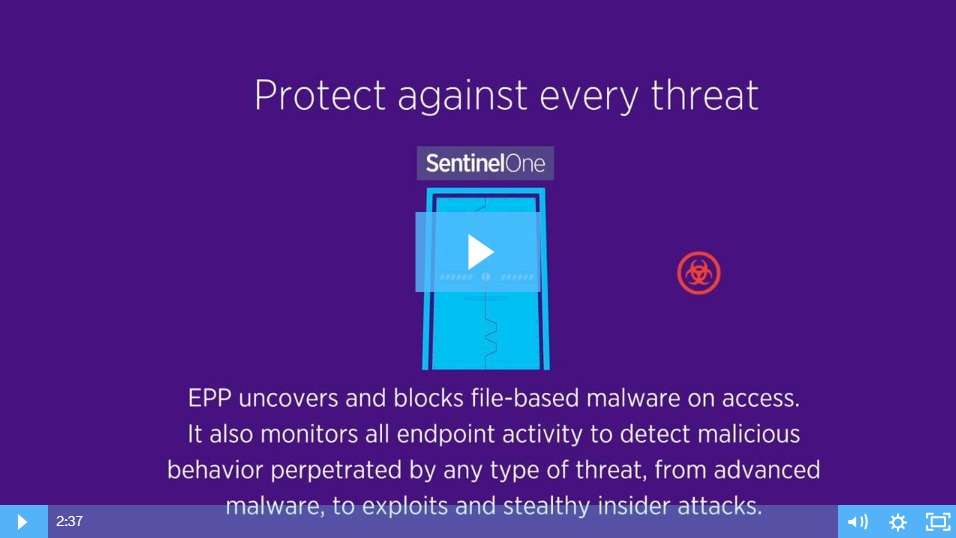 Advanced monitoring, detection, response and remediation services to stop threats and minimize harm to your endpoints
Intelligent reporting and documentation capabilities, including real-time alerting, network and activity monitoring.
Threat profiles that map to specific attack vectors and protec- tion needs, with real-time alerting when a system or site reaches risk levels that are above acceptable thresholds.
Advanced Features:

Mitigation-the ability to kill and quarantine threats,
Remediation-including roll back and restore damage
Forensics-allowing you visibility into the attack timeline- before, during and after
CyberSentinel Managed EDR —Stopping Endpoint Cyber Attacks Dead in their Tracks
CyberSentinel Managed EDR SOC teams monitor and analyze activities and behaviors across all your endpoint devices to identify active threats. Using market leading endpoint detection and response technology, we'll identify and confirm these malicious attacks in progress and, if discovered, will activate remediation steps to stop even the most sophisticated attacks and keep your district moving forward.
The dangers of cyber threats are growing by the day, and there's no sign of it slowing down. Millions of organiza- tions will be affected this year—don't be caught off-guard! Be prepared with strategic, intelligent cyber security from CSI.
Managed Firepower
Today's Internet and network security environment is very different from what it was just a few short years ago. Our legacy tools, basic firewalls and basic anti-virus/malware are no longer sufficient to keep your network safe.
Cisco's Firepower Threat Defense (FTD) firewall is an important new component of your district's security plans. However, to be most effective, this new next-generation firewall needs consistent monitoring of its generated Event Logs. It also requires consistent monitoring of its many security information data feeds to ensure they are operating properly and monitoring of the latest required software updates to assure they have been applied. Attention to these activities assure that your FTD is performing at peak capacity in protecting your network.
Unfortunately, for many districts the required consistent attention to the FTD to maintain security is an additional support burden that is difficult for district staff to maintain. This opens up districts to possible security exposures. CSI wants to help you with this, and has developed our Managed Firepower Services offering. This offering's services are designed to provide:
Remote daily monitoring and device management service for existing Cisco Firepower device environment
Daily review of activity reports by trained CSI staff and notification of client contacts of any items requiring attention
Monitoring and management of all required system software updates by CSI staff
Assistance in enforcing client's security policies and identifying/deterring unauthorized access of client's IT network
These services provide many new weapons in the fight against cyber terrorism, and will greatly enhance the security of your network. However, no service can completely eliminate the threat of unauthorized network access. CSI is not responsible for any unauthorized access to client's network.
Managed Firepower Services Detail:
Continuous health monitoring and device management service for Cisco Firepower devices

Verification of maintenance and proper connection of FMC to Cisco

Monitoring and management by trained CSI staff of all required configuration and software updates to the Firepower system (appliances + FMC)

Verification of proper download and installation of periodic updates

Rules updates, Geo updates, etc.

Includes all customer requested policy updates/changes in addition to CSI suggested changes
Performance of routine software updates to maintain system currency (max 2x per year)
Performance of critical patch updates as released by Cisco, if any
Review by trained CSI staff of the system's prior-day activity reports (generated nightly) and notification of client contacts of any items requiring attention.
Includes initial remote remediation assistance when appropriate/available