CSI is pleased to announce the second of our Tech Talk webinar series on Tuesday April 19th at 10:30m.  This is in addition to our quarterly Tech Talk meetings.   Our hope is that this is a way for you to quickly keep current on some of the latest technical news and information between our regular meetings.  Seating is limited, so reserve your spot as soon as possible.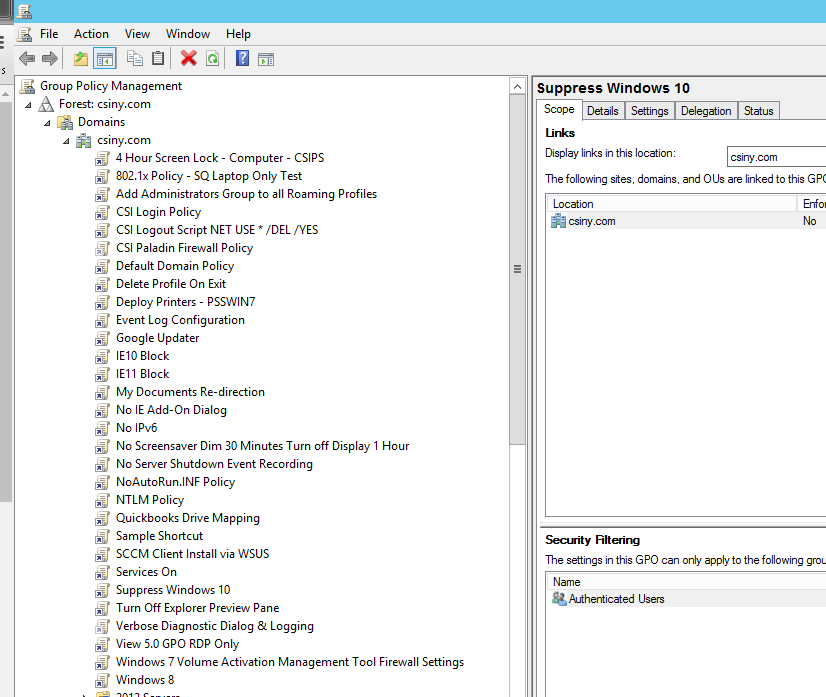 This month Scott Quimby will do an overview of Microsoft Group Policy.  Group
Policy
is Microsoft's preferred way to control the personality and many of the basic security options of domain joined Microsoft Windows computers or servers on a network.
It is split into two distinct types of 
policies.  The first contains
 items such as password
policies
, whether you can access the control panel and change settings, etc. The second is 
Group
Policy
Preference Extensions or GPPE which is often thought of as the "last mile" allowing customization of desktop shortcuts, drive mappings, registry keys, etc.
The object of Group Policy is to allow you to create a consistent, secure, manageable, and customizable end user experience and do as much as possible without having to walk to each workstation..
We'll walk through some of the basics like how to access it, how to see what the polices do as well as how to model what
policies
are and are not doing to a specific user on a specific computer and some common features and best practices.
There is no cost to you for this webinar, but advanced registration is required since seating is limited.  The webinar will run from 10:30AM for approximately 45 minutes.
To attend this webinar, please contact Lisa Evans via e-mail at levans@csiny.com,or via phone at 845-897-9480 x3215.